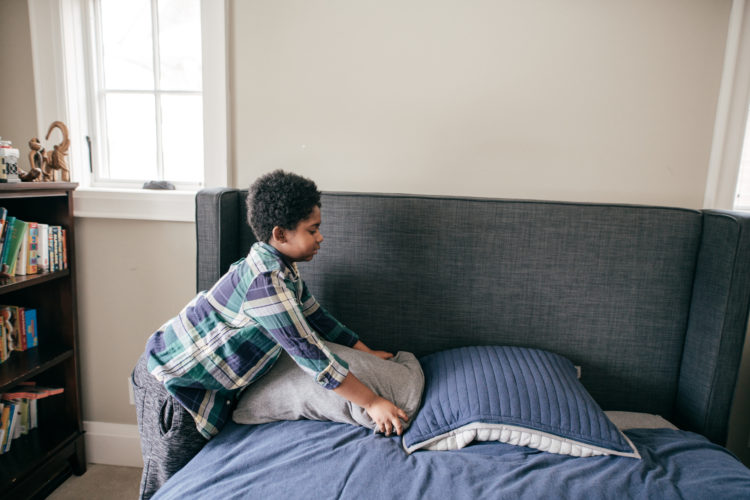 Imagine this: You're in your office when your boss enters and rattles off 10 minutes worth of instructions. By the end of it, you would probably have trouble remembering the first thing you were supposed to do. Kids with autism have this same issue with multi-step directions. Some of them have trouble processing language and information, and it can be confusing when they're told to do multiple things in a specific order. Your child's autism therapist may use an Applied Behavior Analysis (ABA) technique called "chaining" to help your child master multi-step directions. 
ABA Chaining Overview 
Chaining helps ABA therapists and parents teach kids how to perform complex, multi-step tasks. Most tasks can be broken down into more basic components. For example, the directive to "Make your bed" can be broken down into specific directions about smoothing the fitted sheet, pulling the top sheet up, arranging the blankets, and fluffing up the pillows. Chaining is a way to link discrete tasks together to help kids complete the whole task. 
Total Task Chaining 
There are three main approaches to chaining. The first is total task chaining. The behavior analyst or parent walks the child through each step of the task, prompting as necessary. 
Forward Chaining 
Forward chaining has the child learn how to complete the first step of the task independently. Then, the parent or ABA therapist prompts the child for each subsequent task. Once the child can complete the first step independently, without being prompted, then he or she can work on completing the first two steps independently, and so on. 
Backward Chaining 
Backward chaining is the opposite of forward chaining. The child completes all of the steps with prompting, save for the last one. Depending on the skill being taught, backward chaining has a distinct advantage: It directly links the independent completion of a task to the immediate reward or reinforcement. Once the child can complete the last step independently, he or she can work on also completing the next-to-last step independently. 
Highly trained and compassionate behavior analysts comprise the staff here at The Behavior Exchange. We utilize evidence-based ABA therapy to help children reach their full potential and to help families overcome autism-related challenges. Call 888-716-8084 to request an appointment with a behavior analyst near Plano.