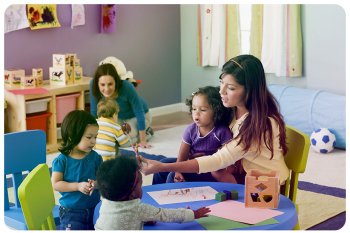 When children with autism spectrum disorders begin ABA therapy and other educational programs early on in their development, they tend to have more success as they grow older and enter the traditional classroom environment. At The Behavior Exchange, we help lay the foundation of academic and social fundamentals with our Early Start or B.E.E.S. program, which is designed for preschool-aged children.
B.E.E.S. utilizes the principles of ABA therapy but implements a group dynamic with a 3:1 student to teacher ratio. Children in this program will practice language, social skills, motor skills, and imaginative play to better prepare for school and gain a sense of appropriate social behaviors.
If you think that your child may benefit from Early Start , call The Behavior Exchange today at (888) 716-8084. Our Dallas-area center will work with you and your child to develop a personalized plan for managing autism spectrum disorders with the ultimate goal of success in school and day-to-day life.