Although each child with autism has unique challenges, it's common for this developmental disorder to cause difficulty with communication and social skills. Many people aren't quite sure how to interact with a child who has autism. When in doubt, it's always best to talk to the child's parents about the child's challenges and how best to socialize with him or her.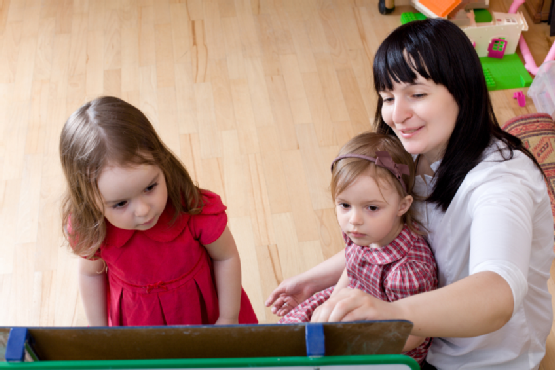 Learn about the Child's Challenges
While  children with autism often share similar challenges , it's best not to assume that a particular child will have trouble interacting with others. Autism affects children in many different ways. Talk to the child's parents about how you should interact with them in the most beneficial way. Ask specific questions such as whether their child is easily overwhelmed by loud noises and bright lights, whether the child prefers to avoid physical contact or enjoys hugs, and whether the child may react aggressively to external stimuli. Additionally, ask the parents what the child's interests and hobbies are and find activities of mutual interest to engage in together.
Go to the Child's Level
An adult towering over a child who is playing on the floor may sometimes appear intimidating. Instead of standing over a child, get on the child's level before trying to interact with him or her. Sit in a child-sized chair at the table, kneel, or sit on the floor near the child.
Offer the Child Toys
Place a variety of toys in front of the child. Try to include some toys that fit in with the child's interests, such as toy trains for children who love trains. You might start playing with a puzzle and then invite the child to join in. Talk to the child throughout the play session; even if they don't respond, he or she learns from your conversation.
Use Positive Reinforcement
Positive reinforcement is a cornerstone of Applied Behavior Analysis (ABA) therapy. When the child completes one of your directives, looks at you, initiates play or vocalizes, reward the child with praise and access to a preferred item.
The therapists at  The Behavior Exchange  use evidence-based Applied Behavior Analysis techniques to help children with autism learn to communicate more effectively. If your child is struggling to socialize with peers and adults, consider scheduling a consultation with one of our dedicated autism therapists. You can reach our location in Plano by calling (972) 312-8733.
Written By Tammy Cline-Soza, MS, BCBA