The Best Way to Find a Quality ABA Provider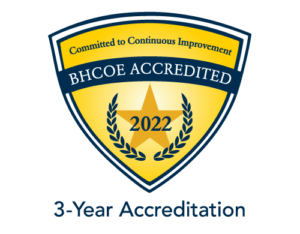 As the rate of autism continues to rise, more ABA therapy providers are entering the market to serve the growing number of families receiving a diagnosis. While that's good news for families looking for answers, it's important to realize that all ABA providers are not created equal.
Parents and caregivers can save themselves a lot of time and heartache trying ABA provider after ABA provider in search of the right one. The quickest and easiest way to narrow down your search with confidence is to look for the BHCOE badge. If an ABA provider displays the gold BHCOE badge, you know for certain they meet the industry's quality standards and have earned accreditation as a Behavioral Health Center of Excellence®.
What is BHCOE Accreditation®?
BHCOE Accreditation is the only earned certification and distinction among ABA therapy organizations. It demonstrates their commitment to quality and continuous improvement in Applied Behavior Analysis, the widely accepted and effective intervention for autism and other behavioral and developmental needs.
Only ABA therapy organizations that meet the standards for clinical and operational quality are granted BHCOE accreditation. The accreditation standards for clinical and operational quality are extensive and cover 11 areas:
Ethics, integrity, and professionalism

Diversity, equity, and inclusion

General requirements, and liability

Hiring, training, and retention

Patient intake

Service delivery

Clinical documentation

Collaboration and coordination of care

Health, safety, and emergency preparedness

Media, communication, and representation

Security, privacy, and compliance
Once an ABA therapy organization earns accreditation, it must demonstrate that it continues to meet the standards for clinical and operational quality year after year.
The Highest Level of BHCOE Accreditation
The Behavior Exchange is proud to offer families ABA therapy services and care that have earned the highest distinction as a Behavior Health Center of Excellence – the 3-year accreditation. In practical terms, a 3-year accreditation means that we meet or exceed at least 96% of ABA therapy accreditation standards.
With our 3-year BHCOE accreditation, we also have the distinction of being the first and only ABA provider in all of North Texas to achieve this honor. And in Colorado, we're one of only five in the entire state! (As of October 2022)
To learn more about ABA therapy, insurance coverage, early intervention, and how to get started on a brighter future for your child and family, please contact us today.
We have three colorful, hope-filled hives in North Texas (Plano, Frisco, and Prosper) and one in Boulder, Colorado, and an experienced, caring team ready to help!