First of all, HAPPY FATHER'S DAY!
Children with autism often struggle to communicate verbally, emotionally, or both. A key part of early childhood development is being able to use arts and crafts to portray emotions that otherwise are difficult to express. Our ABA therapy experts highly encourage the use of arts and crafts in our day-to-day activities.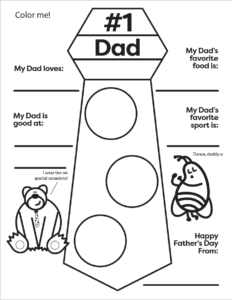 Please download and print this complimentary Father's Day themed activity sheet that would make a memorable gift for Dad on his special day.
Contact us today at 972.312.8733 to learn more about our quality ABA services and centers located in Frisco, Plano and Prosper, Texas as well as Boulder, Colorado.
The Behavior Exchange is a 3-year Accredited Behavior Health Center of Excellence® and an in-network provider.